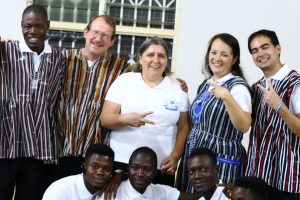 "We are fast approaching the singing from our students."
I turned to Olivia who was directing the concert with me and said, "I don't think 'fast approaching' is the best way to describe it." We both laughed as we looked at the time on our phones. The concert had been scheduled for 7pm, and it was already almost 9pm, yet the choir had not yet sung a single song.
Such is life in Ghana 🙂
The evening began with another torrential downpour, thus making it difficult for people to come to the concert. So we all gathered together at 6:45pm to pray that God would give safety to everyone coming to watch us. We finally started the service when it was almost 8pm, and then we spent the next hour giving announcements, talking about the week, and greeting almost everyone on an individual basis.
Olivia and I were in no rush to get started, but we kept checking the time and laughing as we realized how late it was getting. I only wish that Americans were so laid back and patient!
Shortly after 9:00, our choir walked into the building via the back door, the lyrics of "Holy, Holy, Holy," emanating from their lips. They split up into two lines, encompassing the crowd with their voices before joining back together at the front of the room, lifting their voices to God in 4-part harmony.
Our theme for the program was "ONE," and we started by singing about our one God. Next, we sang "In Christ Alone" as we focused on the one hope we have in Christ.
Other songs included "Jesus Christ the Apple Tree" (one sustainer), "Amazing Grace, My Chains Are Gone" (one salvation), and "Many Languages, One Word" (one mission). We closed the concert with "Blest Be the Tie that Binds" as we reflected on the one family of God that all believers are a part of.
It was such a joy to listen and see the results of a full week of intense training, and it was even more exciting to know that the campers would go home to their churches and impact them.
At the end of the concert, Olivia and I had the privilege of playing one final song on piano and violin, a medley of the "Story of Jesus" starting from his birth to his future rule over the world.
Despite our different backgrounds, our different cultures, our different appearances, and our varying knowledge of music, we all came together for one full week of worship, training, sharing, and ministry as one people of God speaking one beautiful, universal language- music. It was a taste of heaven for sure!
"After these things I looked, and behold, a great multitude which no one could number, of all nations, tribes, peoples, and tongues, standing before the throne and before the Lamb, clothed with white robes, with palm branches in their hands, and crying out with a loud voice, saying, 'Salvation belongs to our God who sits on the throne, and to the Lamb!'" (Revelation 7:9-10)