North America? Check. Asia? Check. South America? Check. Europe? Check. Africa? Almost checked 😉
I love going on vacations, but it's not something I get to do often. However, God has given me the privilege of traveling a lot for ministry, and so far ministry has taken me to South America, Asia, and Europe. Africa is next as God has opened the door for me to help organize a music camp for national in Ghana.
Dan and Karis Mapes, missionaries in Ghana, asked me to help them with an inaugural music camp after hearing about my previous involvement with Semana de Música Sacra,  music camp held every year in Northeast Brasil.
Some of my responsibilities include picking out the theme and the music for the week, teaching music classes, and preaching each day during the week.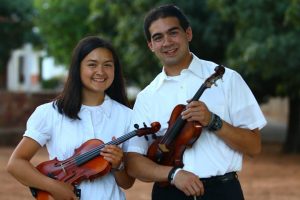 The goal is to help the churches there lay a strong foundation for using music as a means of ministering to each other and opening up opportunities to reach the unsaved in their communities. In many countries around the world, musical training is not as accessible as it is in the US, so music is a great way to connect with people in other localities and cultures.
My trip will be near the end of August, and I need to raise about $2,000 to cover vaccinations, a tourist visa, airfare, and travel/lodging expenses while in Ghana.
If you would like to partner with me in this ministry by donating to my trip, please email me at pastor.joshuang@gmail.com to let me know, and I will give you more information on how to do that.
I am praying for 21 people who could help in the following ways:
-$200 from 7 different people for airfare
-$30 from 10 different people for travel in Ghana
-$50 from 3 different people for housing/food
-$60 from one person for Ghana visa
Also, if you would like to pray for me and hear about this ministry, you can do so without feeling obligated to give financially! Once again, just email me at pastor.joshuang@gmail.com and let me know that you would like to receive my updates as I prepare and then participate in this ministry.
Looking forward to what God will do!