I read the message and could hardly contain my excitement. I had to tell somebody. Anybody! So at supper I told Uncle Jim and Aunt Julie the exciting news, "I get to be the captain of my soccer team this fall!"
After finishing my third season of soccer, I had a lot of reflecting to do. After being a starter for the first 10 games of the season due to a pre-season injury to one of my teammates, I once again returned to the bench where I had spent most of my first two seasons.
Now, on the one hand I knew that I wasn't necessarily good enough to be the starter. On a more talented squad at a bigger school, perhaps I never would have ever had the opportunity to start a game. But it was still a big adjustment for me as I reverted from 70-90 minutes of playing time to 5-20 minutes per game for the last half of the season.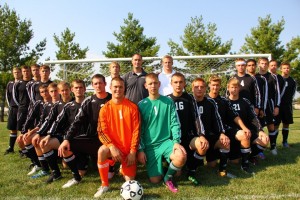 Nevertheless, it's still a team sport, and I supported my team through the losses and victories, and unfortunately we suffered some difficult defeats to close out the season, majorly missing our high expectations for the season.
As the season ended and I packed away my bright blue and orange cleats, I had one nagging desire for the following year: I wanted to be the team captain my senior season.
I had a few odds stacked in my favor. I would be the only fourth-year player on the team, and once again we were losing a lot of talented players who had only come to school for a year or two of Bible classes. But despite those two details, I still thought it would be a long shot because I was a perennial bench warmer and I played a position that often went unnoticed.
The last captain was an All-Region goalie and team MVP (Michael Craig), the captain before him was a 2nd Team All-American defender and team MVP (Seth Bean), and my rookie season we had Jay Nihart and Aaron Nilius as co-captains, two guys who played a huge role in teaching me the basics and exemplifying the not-so-basics (see my preceding post, Sports at a Bible College? Why? – Part 1).
All I had to show from my three years of college soccer were two Scholar Athlete awards (another way of saying that I got a lot of reading done while sitting on the bench).
Oh, and I suppose you could look at the statistics and see that I led the team in shooting percentage one year…I had one goal on two shots for a .500 average. Pretty impressive.
But my God is bigger than my lack of talent, and I asked Him for the privilege of leading my team the following season. I don't remember how often I sent this request up to God, but it was quite often throughout the next several months.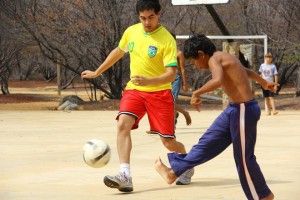 The following summer I went on a 7-week missions trip to Brasil, and there I received a decent fill of soccer. Brasil was hosting the Confederation Cup, so I watched four of the games on TV and cheered with the country as we won the championship game, routing Spain 3-0. I also got to play a little futebol with the nationals, once with some Bible college students and once on an island with some elementary-age kids.
All the while, I kept praying, "God, if it's possible, I pray that you would allow me to be the captain for my soccer team this fall."
I never told my coach about my desire, and for the most part I kept it to myself.
Finally, one evening in Brasil before going to bed I was checking my emails when I received a notification saying my soccer coach had sent me a message on Facebook. I frantically pulled up the message and read, "I have been spending a lot of time thinking and praying about this season and the only thing I know for sure about this season is that I want you to be a captain. Let me know if you are up for it."
"Thank you God!" I don't remember if I verbally said it or if I just thought it, but that's what I was thinking. I was overjoyed!
After replying to Coach and telling him that I had been praying about it too, I received his response the next day: "Glad to hear you're interested in being captain, the position is yours."
My dream had come true. I couldn't thank God enough.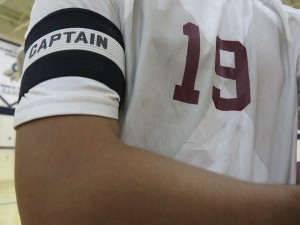 Although I was extremely excited, I also had to be realistic about the situation. As far as anyone knew, we had about 10 people committed to playing, and only 5-7 of us were returning from the year before. I didn't know the new people, and I knew that most of us returners were not very good.
I honestly wasn't expecting anything more than a repeat of my initial season on the team. But as captain, I was willing to make the most of what would be a loss-filled season.
Arriving at school for pre-season tryouts, things looked slightly brighter than previously expected. We had a full 13 people trying out. But still, it was only 13 people, and we had no goalie.
The situation got grimmer as one of our veteran players withdrew his name from the hat, leaving us with only 12. Being team captain was getting harder and harder.
But before the week was over we had recruited two basketball players and a new student who had transferred from another school. None of them had come to school planning to play, but we knew they were athletic and could run, so we gladly welcomed them to the team. One of original teammates also agreed to tend the goal for us.
The season started out rough as expected as we lost 7-0 to Providence in our first game. A week later we lost 5-0 to Manhattan, four of those goals in the first 47 minutes (90 minutes total in a full game).
The next day we lost a heart-breaker, falling 2-1 on the road to Barclay College after scoring first in the 100+ degree afternoon heat. We played much better that day, but we still arrived home disheartened by a 0-3 record.
But even though we lost to Barclay, that second half against Manhattan proved to be somewhat of a turning point early in our season.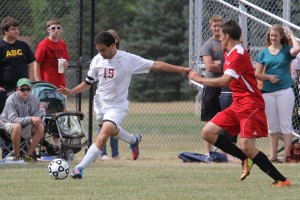 After our loss to Barclay, we won our next four games in a row, giving up only one goal while scoring 13. During that span, I recorded my first career assist (three total during that span), a personal goal of mine.
We lost the next game 1-0 to a great team, evening our record at 4-4, and the next game was another of my greatest memories from my soccer career.
We played Northland International University, a team that ranked at the top of the nation year after year. In my first three years they beat us 8-0, 6-0, and 11-0. In fact, the year before when we lost 11-0, we had set up cameras behind the nets, and in the locker room after the game we marveled at the goals they had scored on us.
Anyway, most of the goals in each of those games were scored in the first half because they would score a lot and then rest their starters in the second half. This time, we held them scoreless the entire first half.
Best half of soccer in my life. Yeah, it was 0-0, but we were playing one of the best teams in the country! We were excited, and as the captain I challenged the guys to keep on fighting hard.
We eventually lost 3-0, but it was the most respectable 3-0 loss I ever had. That was one of the defining moments in our season. My team of 15 had stood toe-to-toe with the best and played well. This was not the team I envisioned before the season began.
In October we initiated "Shutoutober", refusing to allow any team to score on us during the month of October. The result was five scoreless games in a row, one tie (against North Central, of course) and four victories. The streak ended on a bad call in a conference tournament game late in the month, but it was still a memorable month of defense.
I don't recall ever playing on a team that played hard as those guys did during that month. We were determined to kill our bodies before we would allow a ball in our net. In fact, I remember receiving a ball square in the face from a point-blank shot near our goal in the aforementioned conference tournament game, but it was worth it because it kept the ball out.
For once in my career, we overachieved, surpassing all my expectations. We weren't very talented, but I had the privilege of leading a team that played as a team and worked hard. We tied a record for most shutouts in a season, we had enough talent to score a goal or two, and most of all, we played with lots and lots of heart. We went into our regional tournament hoping for the best.
Unfortunately, the season ended in heart-breaking fashion as well, and my last career game was one I can visualize just as clearly as the first when we beat Calvary in overtime.
Once again playing the regional tournament semi-final game against NCU, we played 90 minutes of fierce soccer but no one could score. We went into overtime and double overtime as the sun set, and 20 minutes later, we were still scoreless.
In four seasons of soccer, I played in four tied games. All of them were 0-0…and all of them were against North Central. Man, that was so annoying!
But this time, we couldn't end in a tie. We needed a winner to face Providence in the championship. The only solution? A shootout in the dark.
We had practiced shootouts because we knew it could come down to this. Our chosen five had done well, nailing their shots in practice. But this time it was real…and this time, they didn't do so well.
Our first shot was blocked, and we missed the next three. NCU also missed their first two, but they successfully scored the next couple.
As the game winning penalty kick soared past our keeper, our captain fell to ground on his knees in tears. The game was over. The season was over.
My soccer career was over.
Or was it?
I finally walked off the field that night, but my heart ached. I wanted to win so bad! On the other hand, I never envisioned we'd come this far. I thought my role as captain would be to encourage a downtrodden squad for over two months. Instead, we competed for championships, and we came close. I was filled with bittersweet joy.
Four years go by so fast. But the reality is, my soccer career isn't over! It didn't end when I pulled off that captain's band and tossed it in the laundry heap. Those four years were all preparatory, developing new skills and refining what little knowledge I had of the game.
My first year, Coach talked to me about my future plans, and I told him I wanted to play four years. He was very gracious and told me he was excited about that prospect. He compared me to another player on the team who had played four years and become a quality starter after not playing much when he began. I was encouraged by that conversation, and four years later God had fulfilled my dream.
How many people get the opportunities I had, especially with as little talent as I possessed? Not many. Is it because I'm special? Not really. But I serve a God who works outside the realm of reality and possibility.
Like I said, I'm not finished with soccer. In my third and final post in this series, I will elaborate on the continuing blessing God has provided with the game I love.