Trailing Calvary Bible College 0-1 late in the game, we sat on the sidelines hoping for something, anything good to happen. Our guys had fought hard in the Saturday afternoon heat, but still we had little go our way.
All of a sudden, defender Aaron Nilius cleared a ball from midfield, and from 35 yards out midfielder Jay Nihart barely managed to deflect the ball off his head toward Calvary's goal. Fortunately for us, their goalkeeper was standing too far out and the ball cleared his reach and bounced into the net. We erupted on the sideline, and in that moment we had tied the game at one apiece. We were back in the game.
It was back and forth for the rest of regulation, and the score remained knotted at one.
Overtime, here we come. Golden goal. First to score wins it all.
Back and forth soccer again. Finally Emanuel Seewald, one of our best forwards, broke through the Warriors' defense and slotted the ball past their keeper one more time. It was over.
We screamed and ran onto the field like little children, jumping on top of each other with huge smiles while our faithful fans cheered loudly on the sideline. It was ugly, but we had claimed a victory in our first game of the season in dramatic fashion on our home field, and we were exhilarated.
I still remember that day. It was my first collegiate soccer game, and I'm pretty sure I didn't even get to step on the field, but it was an experience like none other.
When I enrolled at Faith Baptist Bible College in the fall of 2009, I was interested in playing soccer for the Faith Eagles, but I didn't want to do it my first year. After all, my purpose in going to Faith was to get a solid Bible education that would aid me in future pastoral ministry, so soccer was not a priority of mine.
That year the team was fairly good and had several accomplishments. In fact, I think they posted a winning season that year. Several talented seniors were on the team, and the defense was one of the fastest, most talented groups the school had in awhile.
I went to a few games, but I never regretted my decision not to play. I was busy enough with my first semester at Faith and knew that it was better for me to focus on my studies and simply learn what college life was all about and how to make the most of it. So I built some good study habits, learned how to better manage my time, and got involved in a great local church.
But when I returned for my second year at Faith in 2010, I had committed myself to playing soccer. I had not played organized soccer since 5th grade, but I was ready to take on the challenge and have some fun.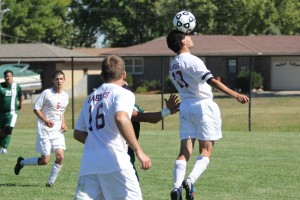 After losing all those seniors from the year before, there were about 16 of us that tried out for the team, and 18 is the limit. So I had nobody to impress and made the team as a sub along with a few other untalented guys. We didn't have high expectations for our season, but we loved the game and we were going to make the best of it.
We won our first game of the season over Calvary, but the rest of the season wasn't so bright. We finished with a record of 3-11-1, our best regular season game coming in Coon Rapids, MN when we tied rival North Central University 0-0 in double overtime at night. We would have had five wins, but two of our victories were later reclassified as scrimmages and did not count toward our final win tally.
The most memorable moment of the season for the team and for me personally came during the regional tournament which our school hosted. Near the end of the season, I had won a starting position as an outside midfielder, not because I was super-talented but because I worked extremely hard on the field, especially in defense. So in the regional semi-final game against North Central, I had the opportunity to make the most of everything I had trained during the season.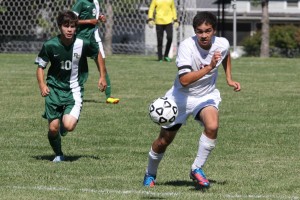 For the first time all season, my family was able to attend a game, and our fans came out to support us as we finished out our season. I played most of the game, and I don't remember most of it. But I remember the minute that mattered most.
Although we tied NCU earlier in the season in the aforementioned highly-contested battle, we managed to score first in the game. Leading 1-0 late in the game, we once again got the ball dangerously close to their goal, and I ran inside the back post. Suddenly someone attempted a shot on goal, but NCU was there. However, as one of the defenders tried to clear the ball out of the box, I happened to be in the right place at the right time doing absolutely nothing.
Standing right in front of the goal, the cleared ball bounced right off my chest and back into the goal, finding the back of the net.
Without any fancy moves or a powerful kick, I had scored my first collegiate goal when it mattered most, my family was there to see it, and we had virtually locked up a spot in the championship game the next day, leading 2-0 with only a few minutes left.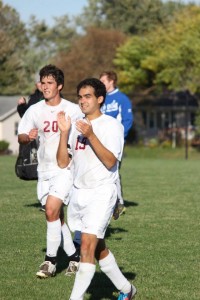 I ran back to the sideline somewhat confused as to what had just transpired, insisting that I didn't actually score because I didn't do anything. "They tried to kick the ball away and it went off my chest and back in!" But a goal is a goal whether it's fancy or not. Coach promptly put a substitute in for me, and I was done for the day. But we won, and we would play another day.
In the locker room after the game I discovered that I literally had the imprint of a soccer ball on my chest. It was such a great feeling!
In case you're wondering what happened the next day, we lost 8-1 to powerhouse Providence from Manitoba, Canada, and our season was over.
But the lessons I learned during that first year of soccer were invaluable, and I ended up playing the next three years (two in college and one in seminary), becoming one of the few students at FBBC&TS to play four years of soccer for the school.
The experience was so worthwhile, even though it wasn't my main priority at school. I never again played on a team that was as bad as we were that first year, but I wouldn't trade that season for anything. God taught me many lessons that would prepare me for the next three seasons on the field and for the rest of my life off the field.
This is the first of a three-part series of posts on my collegiate soccer experience, and the purpose of it will be revealed in the third and final installation in the series. God is now using soccer in my life in an especially unique way, and I'm excited to share how God used four seasons of soccer (and one year as a team manager) to prepare me for this time in my life.
(Photo credits: First three images- Shon Lundberg; fourth image- Laura Sturgis; fifth image- Self-Portrait 🙂 )