For those of you out there interested in preaching, here's a book I would highly recommend: Expositional Preaching by David Helm. At only 100-some pages, it's an easy read with sound practical advice for preparing messages.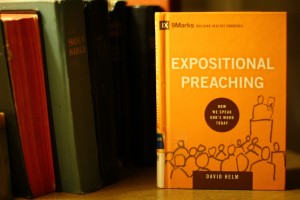 Part of the 9Marks book series born out of Mark Dever's "nine marks of a healthy church," this book promotes expositional preaching as essential for today's churches.
Interestingly enough, it comes with Mark Dever's personal recommendation on the back cover, which I found to be slightly amusing.
But all joking aside, it really is a good book, at least in my opinion (since it was an assigned book for one of my seminary classes, it also comes with the recommendation of my professor).
Helm begins by talking about inadequate styles of preaching that ultimately have no impact because the preachers mishandle Scripture and carelessly prepare sermons that tickle the ears but bypass the heart.
Next, Helm examines exegetical methods that honestly seek to derive truth from Scripture. Emphasis is placed on interpreting Scripture as it was originally intended to be understood.
Third, the book shows the importance of understanding the Bible as a unified canon with theological themes that run throughout the whole book, crossing the blank pages that separate the Old and New Testaments. When exploring any aspect of theology, all of Scripture should be taken into consideration.
Finally, Helm looks at application and how it can be done effectively.
I especially like the examples Helm uses of how Jesus and Paul preached and how we can draw principles from their style.
Now, I'm not completely sure yet what I think about Helm's comparison between Saul the night before his death (1 Samuel 28:20-25) and Jesus the night before his death on pages 81-82. It's an analogy I have never heard before and seems kinda creative. But at any rate, it's something for me to study for myself.
Great book that should take you no longer than an afternoon to get through.
Feel free to check it out from the Waterloo Public Library. Faith's library doesn't have it so I had to borrow it from there. 🙂