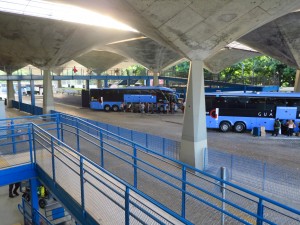 Hello, Fortaleza.
We arrived at the massive bus station in Fortaleza shortly before 7am and disembarked with our stuff.
We found a couple taxi cabs that took us to the BMM apartment office where I stayed during my first night in Brasil, and we dropped off our stuff there so we could go shopping.
After a light but tasty breakfast of granola, mamo, coconut yogurt, and caju juice, we went to a large mall a few miles away. Man, once again I was reminded of the CrAzY traffic and terrible infrastructure of that rapidly-growing city.
It took us SO long to get to a place that would normally take only five minutes with better-designed roads. But it was fun to look around at the intriguing sights that I could only see there.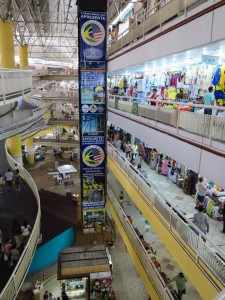 The purpose of this trip was to purchase anything else that Danae or I wanted to take home with us. Up until this week, I really had not made any effort to get stuff, although there were things I knew I wanted. I especially wanted to get some things for my family, but since that was not my focus during the summer, I had not really gotten anything yet.
It reminded me a lot of the cluttered, colorful stores at the malls in the Philippines. Quite welcoming, actually. I like the small little shops, and I don't get claustrophobic, so it was fun to look around.
A lot of the stores had the exact same stuff, so I walked around several times with Uncle Jim until I found the cheapest options, and then we negotiated the prices down a little more, as is the cultural norm.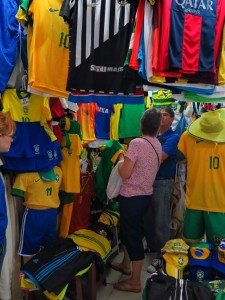 I bought another hammock, a Brasil soccer jersey, and I think another small item that I have now forgotten. My only regret is that I didn't find a large Brasil flag to bring home with me. Someday I would I hope to have one to hang in my room or somewhere.
The Leonard's also bought some stuff to send home with me for other people, so I had a nice collection of Brasilian merchandise by the end.
On the way out of the mall we looked at some small models of future apartment buildings as the developers were trying to pre-sell living spaces in order to get enough money to actually build those places.
Those were interesting to look at…some of them were quite ambitious. It was fun to hear Uncle Jim explain how they try to sell these places before building them, sometimes finding success and sometimes not.
Oh! I almost forgot! Uncle Jim bought me a coconut so I could drink out of it one final time. It was so delightful.  Man, I love that stuff.
So, let's see. When I first came to Brasil I arrived in Fortaleza, drove through the city in CrAzY traffic, went shopping for a hammock, and ate my first meal at a churrascharia (by far the best meal of the entire summer).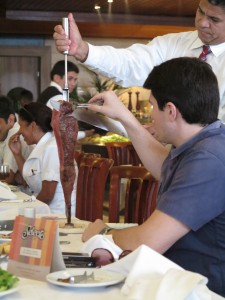 So now I'm ending my trip by shopping for a hammock, driving through the city, and flying out of Brasil…oh! Well, my bookends wouldn't be complete without one more visit to the churrascharia, right?
So, my first and last meals in Brasil were my favorite, and they were both at the same restaurant. I filled up on sushi, cheese, chicken, pork, beef, wild boar, pheasant, and coconut water. Oh yes…loved it!
I don't know what's better- the huge sushi bar, half a dozen selections of cheese, or a constant barrage of various meats brought to your table on large skewers.
Probably the meat…that's what it's all about. Man, Brasil just does its meat so well. I love meat in the US, but it is so much better in Brasil. They know what they're doing.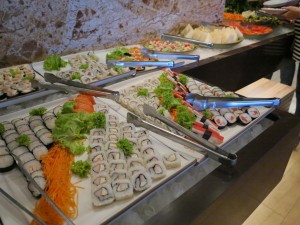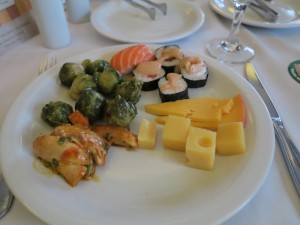 My flight was scheduled for mid-afternoon, so after lunch we went directly to the office, picked up my stuff, and went to the airport.
Getting into the airport was difficult because the airport was undergoing renovation in anticipation of the World Cup (hosted by Brasil in less than a year). At the airport we got in line with several other cars, but the going was so slow that a couple of us finally got out and just walked my stuff to the terminal while Uncle Jim went and parked the car we were borrowing.
As we waited inside the terminal, we suddenly heard a loud commotion approaching us. We turned to see a mob of airport workers walking through, carrying a banner and loudly blowing some shrieking plastic whistles. It was deafening!
Apparently they were upset with the government and all the money that was being poured into the World Cup preparations while other parts of the economy suffered
I was so glad when they had moved on…my ears didn't like that!
We got my stuff checked in and still had lots of time before my flight, so we talked a little and then spent some time praying.
Off to the side in one area of the airport was a small chapel, complete with a few benches and an altar. We went in there and Uncle Jim prayed specifically for me and my trip and my ministry. That was a really special moment of that day.
Well, almost all good things come to an end, and I walked through security, leaving my Brasil family behind.
My first flight was a short one, only taking me to Brasilia on a Gol Airlines jet. In Brasilia I got onto a huge Delta jet that would fly me through the night to Atlanta, home to the largest airport in the world.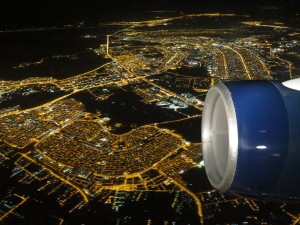 I ate a good meal of rice, beans, chicken, a dinner roll, lettuce salad, lime cheesecake, and orange juice, and I did a little reading. But most of my time was spent sleeping.
Also, I'm not afraid to admit that my eyes released a few tears as I looked down over the brightly-lit Brasilia during take-off.
Good-bye, Brasil.